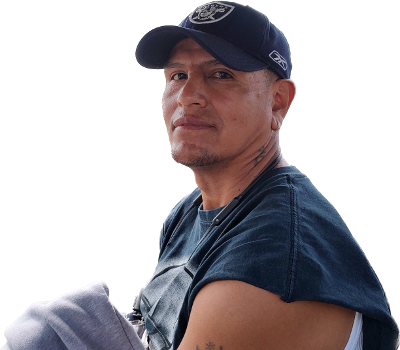 Visiting
2:00 pm - 6:00 pm
Sunday, January 22, 2023
Dangler Funeral Home Of West Orange
340 Main Street
West Orange Township, New Jersey, United States
973-325-1212
Funeral Mass
10:00 am
Monday, January 23, 2023
Our Lady Of The Valley Church
510 Valley Road
Orange City, New Jersey, United States
Burial
11:15 am
Monday, January 23, 2023
Rosedale Cemetery
408 Orange Road, <no data>
Montclair, New Jersey, United States
(973) 673-0127


Obituary of Daniel Jesus Alfaro
Please share a memory of Daniel to include in a keepsake book for family and friends.
Daniel Jesus Alfaro, known as "Danny", of Orange, New Jersey sorrowfully departed at the age of 50, on January 11, 2023. He is survived and dearly missed by his children, Christian, Brandi and Melanie and grandchildren, Gael and Ale. Forever cherished and remembered by his parents Crecencia Medina and Jesus Alfaro. Along with his siblings; Rosa, Matilde, Rafael, Vicky, Manuel and Luis and all his nieces and nephews; Stephanie, Julio, John, Anybeth, Sheryl, Casey, Brandon C, Brandon G, Andrea, Michele, Christopher, Carlos, Alessandra, Dayana, Jeremy, Jhocelyn, Lucero and Frida. He was born to Crecencia Medina and Jesus Alfaro in Lima, Peru where he grew up until moving to the United States in 1989. Danny was a family man, committed to being present for his loved ones. He was devoted to caring for his mother, who he shared a close connection with. Danny also loved visiting his longtime girlfriend Lori, as well as spending time with his daughters and rest of his family in New Jersey. Growing up, Danny was passionate about playing soccer and won performance awards in local NJ leagues. Danny's favorite sports team was the Knicks. He loved listening and singing along to his favorite 90s rap and RnB artists. He also enjoyed watching films, especially romantic-comedies and dramas. Danny was wildly charismatic, he cracked jokes to lighten the mood and was always wanting to help out others in need. He dedicated 25 years working for De Leon Landscaping. During this time, he impacted the lives of his fellow coworkers, bosses and clients with his vibrant nature. His loss weighs heavy on the hearts of his loved ones, but we are deeply grateful for all the time spent with him.Those memories will be cherished in our hearts forever.
Memorial visitation will be held on Sunday, January 22, 2023 from 2:00pm to 6:00pm at Dangler Funeral Home of West Orange on 340 Main Street in West Orange. A mass will be held on Monday, January 23, 2023 at 10:00am at Our Lady of the Valley in Orange followed up by burial service at Rosedale Cemetery.
Daniel Jesús Alfaro, conocido como "Danny", de Orange, Nueva Jersey, partió con tristeza a la edad de 50 años, el 11 de Enero 2023. Sus hijos, Christian, Brandi y Melanie, y sus nietos, Gael y Ale, lo sobreviven y lo extrañan mucho. Siempre querido y recordado por sus padres Crecencia Medina y Jesús Alfaro. Junto con sus hermanos; Rosa, Matilde, Rafael, Vicky, Manuel y Luis y todas sus sobrinas y sobrinos; Stephanie, Julio, John, Anybeth, Sheryl, Casey, Brandon C, Brandon G, Andrea, Michele, Christopher, Carlos, Alessandra, Dayana, Jeremy, Jhocelyn, Lucero y Frida. Nació de Crecencia Medina y Jesús Alfaro en Lima, Perú, donde creció hasta que se mudó a los Estados Unidos en 1989. Danny era un hombre de familia, comprometido a estar presente para sus seres queridos. Se dedicó a cuidar de su madre, con quien compartía una tierna conexión. A Danny también le encantaba visitar a su novia Lori, con quien compartió muchos años de amor y pasar tiempo con sus hijas y el resto de su familia en Nueva Jersey. Mientras crecía, a Danny le apasionaba jugar fútbol y ganó premios por desempeño en las ligas locales de NJ. El equipo deportivo favorito de Danny eran los Knicks. Le encantaba escuchar y cantar junto a sus artistas favoritos de rap y RnB de los 90. También disfrutaba viendo películas, especialmente comedias románticas y dramas. Danny era tremendamente carismático, contaba chistes para alegrar el ambiente y siempre quería ayudar a los que lo necesitaban. Dedicó 25 años a trabajar para De Leon Landscaping. Durante este tiempo, impactó la vida de sus compañeros de trabajo, jefes y clientes con su naturaleza vibrante. Su pérdida pesa mucho en los corazones de sus seres queridos, pero estamos profundamente agradecidos por todo el tiempo que pasamos con él. Esos recuerdos serán atesorados en nuestros corazones para siempre. El velorio conmemorativo se llevará a cabo el Domingo 22 Enero de 2023 de 2:00 p.m. a 6:00 p.m. en Dangler Funeral Home of West Orange en 340 Main Street en West Orange. Se llevará a cabo una misa el Lunes 23 de Enero 2023 a las 10:00 a.m. en Our Lady of the Valley en Orange, seguida de un servicio de entierro en el cementerio de Rosedale


Share Your Memory of
Daniel