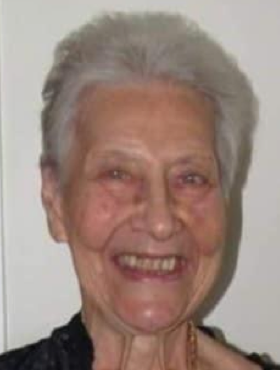 Obituary of Etta Marie Rizzuto
Please share a memory of Etta to include in a keepsake book for family and friends.
Etta Marie Rizzuto (nee' Martorano) Born August 22, 1929, deceased December 17, 2021
Mrs. Etta Marie Rizzuto (nee' Martorano), 92 years old, of Orange, New Jersey, passed away at the Toms River home of her daughter, Mary Frances Rizzuto, on December 17, 2021. She was born in Lodi, N.J. to Felix and Anna Martorano (nee' Trippodi). She lived in Orange for 57 years before moving to West Orange in September 2015.
Mrs. Rizzuto was married in 1955 to Dr. Paul J. Rizzuto, M.D. Together they travelled to Rome, Italy and lived there for the first 18 months of their marriage. She often said she went to mass at every church in Rome. During that time, Dr. Rizzuto finished his medical studies at the University of Rome, and they had their first of nine children. Dr. Rizzuto predeceased Etta in 1987.
Mrs. Rizzuto graduated from Brownson Academy/ Holy Trinity in Hackensack in 1947 and graduated with a B.A. in 1951 from the College of St. Elizabeth, Convent Station, N.J. She received a B.S. degree in Medical Technology from St. Mary's Hospital, Passaic, N.J. in 1952 and became certified in the American Society of Clinical Pathologists in 1953, which she maintained until her 79th birthday. She earned thirty credits towards a Science Education Master's Degree from Kean University. She received a Master's certification from N.J. Schools Board of Education after passing the qualifying exam.
During her lifetime, Mrs. Rizzuto served in many organizations and received various awards. She served as president of the Essex-Suburban District of the National Council of Catholic Women of the Newark Archdiocese; the Doctors' Wives Club of St. Mary's Hospital, Orange; and the Rosary Societies of St. Venantius Church and Our Lady of the Valley Church, both located in Orange. She also served as the president of the Essex County District of the College of St. Elizabeth (now St. Elizabeth University) Alumnae Association as well as its national vice president. She was recognized by her beloved alma mater in 2017, receiving the distinguished alumni award for "Transforming Lives."
She was a proud and faithful member/donor of the Prime Timers, Health & Wellness Women of Faith, Divine Mercy Café and the Saturday Soup Kitchen, all of Our Lady of the Valley Parish.
As the Founder of Boy Scouts Cub Pack 81 at St. Venantius, she received the District Award in 1973, the highest award given to women in the U.S. scout organization as well as the Fleur de Lis from the Newark Archdiocese. She loved her cub scouts and because a proud supporter of their senior activities.
She was a member and president of the Board of Directors of the Fr. Vincent Monella Center of Italian Culture, established at Seton Hall University in 1958. Affectionately known as 'Casa', it was a home away from home, located initially in Vailsburg and most recently in South Orange.
She was a member of Soroptimist International, serving in various capacities and in 2015 was honored with a lifetime membership. She was a member of the Sons of Italy Padre Pio Lodge #2350 and a devoted supporter of their scholarship fund.
She also belonged to the Orange Washington/Dodd Seniors, the AARP of Montclair, the P.E.A. of Eastside High School, Paterson, the Municipal Alliance of Orange, the Crown View Manor Condo Assoc. of West Orange and the Friends of West Orange Library.
Mrs. Rizzuto was employed as schoolteacher for many years, initially as a permanent full-time substitute for ten years in the Orange schools and then teaching Honors science classes for over twenty-two years in the Paterson school district, retiring in 2008. She still counts many of the present staff in these schools as friends and several of her students kept in touch with her even through this year.
She was recognized for her educational efforts on behalf of her students. In 1995 she received the Governor's Annual Award of Teacher of the Year and was also selected as one of fourteen finalists for best high school teacher by Princeton University. She was also recognized nationally in 2005-2006 as one of the outstanding high school teachers in the country.
The Paterson H.A.R.P. Academy where she worked honored her by naming their scholarship as the 'Etta Marie Rizzuto HARP Scholarship'. Because of her position at HARP, she was appointed as an adjunct professor at UMDNJ's Scotch Plains campus and was the first recipient of the Dean's Award in May 2008.
In 2017, at the age of 88 years, she received the NJ State Governor's Award for public service and was honored to receive same from Governor Chris Christie. This too was a recognition of her long devotion to education and philanthropy. https://youtu.be/N2SKI9z2C38
She was very active in the greater Orange community. She served on the Orange Board of Education for twelve years. Mrs. Rizzuto was named The Oranges' Woman of the Year in 1992 for her volunteer dedication to the community, especially regarding education. She served as president of the Essex County Board of Education and of the Essex County Educational Services Commission.
Her love of writing generated an opinion column in Worral Publications, "Along My Way". She loved to travel and visited many countries, including Russia, China, Japan, France, Holland, Denmark, Spain, writing of her travels along the way. She loved the United States and saw practically every State, often driving on famous highways or traveling by train.
Mrs. Rizzuto counted reading, writing, gardening, cooking, crafting and serving as an inspirational speaker among her advocations. Still, with all her activities, she was a devoted wife and mother to nine children and their home was often the gathering place for friends and family.
She was predeceased by her beloved son, Michael R. Rizzuto, in 2009 and beloved daughter-in-law Anna in 2019, both of Toms River. She is survived by sons Paul and Phillip of Orange, Joseph of Clifton, John of West Orange and Vincent and wife Roseann of Nutley and her loving daughters, Mary Frances of Toms River, Susan Rizzuto Mello of Essex Fells and Anne Marie Rizzuto Mariano of Parsippany. She is survived by seven grandchildren, Veronica Malgieri (Adam), Diana and Michael Rizzuto, Danielle and Michael Paul Mariano and Lucia and Vincenzo Rizzuto. She was affectionately nicknamed "Mimma".
She was predeceased by her wonderful brother, Tommy Martorano and his wife Josephine of Lodi and her brother-in-law, Phil Mosca of Roselle Park. She is survived by her by four siblings, Josephine Schaublin and husband Bob of Wayne, Phyllis Mosca of Paramus, Anita Holland and husband Henry of Pine Beach and her brother Vincent Martorano and sister-in-law Rita of Montville.
She leaves behind many affectionate nieces, nephews, grand-nieces and -nephews, cousins, eight godchildren and many wonderful colleagues, students, friends and children of friends, some of whom have been in her life for 65+ years.
From Etta: To all, many blessings and happiness and thank you for making my life a "Miraculous Journey".
In lieu of flowers, Etta has requested that donations be made to the "Etta Marie Rizzuto Scholarship Fund", which was established by her children. Donations may be mailed to Saint Elizabeth University c/o Institutional Advancement 2 Convent Road, Morristown, NJ 07960 or made online at www.steu.edu/advancement/donate-now


Share Your Memory of
Etta