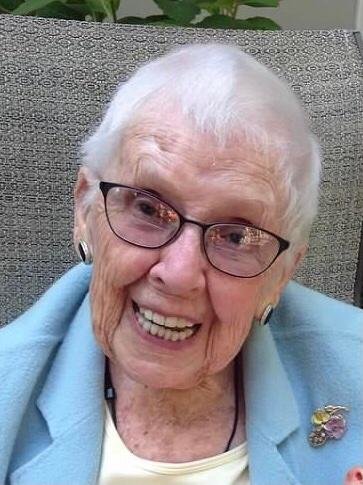 Obituary of Jeanne Marie Laracy
Please share a memory of Jeanne to include in a keepsake book for family and friends.
Jeanne Marie Laracy passed away peacefully at the age of 101 at her home in South Orange NJ on January 21, 2021.
Jeanne was born in East Orange NJ to Mary and William Gallagher on January 7, 1920, in the year when prohibition began and women gained the right to vote. She graduated from Orange High School and later worked for many years at US Rubber in Rockefeller in NYC.
After living through the great depression and WWII, Jeanne married Raymond Peter Laracy in 1946 and had nine children. She loved swimming with her friends at the YWCA and traveled extensively with her husband. In addition to being a devoted wife and mother she volunteered at Saint John Grammar School and at the Orange YWCA. In later years she greatly enjoyed the Senior Circle of South Orange and served as their President from 2004 to 2006. She was a devout Catholic and dearly loved her parishes – Saint Johns and later, Our Lady of the Valley, both in Orange. Because of her outgoing personality and undying optimism, she had countless friends and family always nearby. Her children often described her as the happiest person they ever met.
Jeanne is survived by her son Matthew Laracy and his wife Mary Lynn, her daughter Mary Peterson and her husband Edward, her daughter Grace Malley and her husband James, her son John Laracy and his wife Joan, her daughter Theresa Policastro, her son Paul Laracy and his wife Catherine, her daughter Catherine Mulroe and her husband Michael, her daughter Margaret Smolin and her husband Robert, her daughter Anne Majewski and her husband Steve.
She is also survived by her 36 grandchildren: Mary McCabe, Paul Laracy, Clare Grubb, Margaret Laracy, Bernadette Davis, Rebecca Skehan, John Laracy, Edward Peterson, Theresa Roth, Jennifer Baez, Julie Carpenter, David Peterson, Father Daniel Peterson, Seamus Malley, Deirdre Malley, Maire Laracy, Grenye Fernau, Kyle Laracy, Brendan Laracy, Katie Seward, Lauren Sullivan, Kelly Calleros, Christine Crawford, Father Joseph Laracy, Matthew Laracy, Grace Ungelieder, Conor Mulroe, Brigid Mulroe, Fiona Mulroe, Samantha Mathiess, Kenneth Smolin, Andrew Smolin, Hannah Borek, Meagan Hughes, Jessica Liloia, John Majewski; and 72 great-grandchildren.
Jeanne was predeceased by her husband Raymond Laracy in March 1999, her brother William Gallagher in April 1998 and her sister Marion Laracy in September 2014.
Services are private due to Covid restrictions.
In lieu of flowers, donations can be made to Our Lady of the Valley Parish, 510 Valley Street, Orange, NJ 07050 or Magnificat Home C/O Anne Majewski 336 Clark Street, South Orange, NJ 07079.


Share Your Memory of
Jeanne