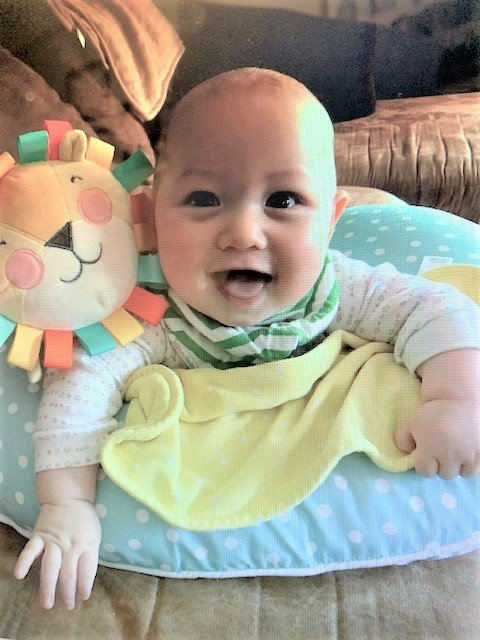 Obituary of Owen Shawn McManemin
Please share a memory of Owen to include in a keepsake book for family and friends.
Owen Shawn McManemin
September 25, 2019 - May 2, 2020
In the end, all of our times on earth are brief flashes, and some stays are more brief than others. What is important is that we get to experience the wonder of existence at all - and that it's better to have spent 7 months surrounded by and radiating love than 70 years mostly miserable.
On that count, Owen Shawn McManemin had a very successful life. He was the happiest and least-fussy baby just about anyone had seen. He was full of easy smiles and had a gentle, "old soul" quality about him almost from birth.
Owen lived surrounded by love, with his mother and father and big sister Annie who adored him. His extended family, friends, and neighbors were won over by his baby charms.
He packed a lot of living into his seven months. He experienced just about all of the most fun holidays (dressed as a pirate for Halloween; got passed around by the family like a gravy boat at Thanksgiving; sat on Santa's lap; played with an Easter basket with his sister). He even celebrated his Chinese 100 days milestone in style wearing a party hat surrounded by loved ones. Owen saw the leaves fall from the trees and grow back again. He experienced sun, rain, snow, night and day, heat and cold, shapes and shadows, toys, books, and animals. He experienced laughter, got to hear music, speech and stories, and enjoyed the quiet fascination of discovering and exploring objects, textures, colors and light. He learned to sit up, rolled over at least 3 wobbly times, tasted new foods, and in his last days started to babble. Most importantly to a baby, Owen got the maximum dose possible of what made him happiest - mommy time.
Owen was born with a congenital heart condition called Tetralogy of Fallot, though that isn't technically what ended his life, and his life story is not a story of ill health. Owen actually had one of the least serious cases of Tetralogy, and was a robust and healthy baby from the start. What brought his unfortunate end was an extraordinarily rare and mysterious complication resulting from the surgery to fix the Tetralogy - a cardiac arrest that happened days after the surgery.
Owen will be missed terribly, and never forgotten. He will always be our beautiful boy, our son. We may never fully understand why Owen's time with us here was so brief. His leaving, like his coming, is shrouded in the mystery of long odds. It gives us comfort to believe that perhaps there were other, greater plans for Owen. What we do know without a doubt is Owen was loved and he loved us. The lesson and legacy Owen leaves all the lives he touched is that time is precious, life is precious but precarious, and the love for those held close in our hearts never ends.
Owen is survived by his sister Annie, his mother Leslie, his father Kevin, and his extended family. A celebration of Owen's life will be announced at a later date.
For those who would like to honor Owen, there is no specific fund we'd ask you to donate to. Rather, we would suggest you pay tribute to his legacy through an act demonstrating how precious love, family, and time are in our short lives. Reach out to someone you haven't spoken to in years. Do a special family activity with your children or loved ones. Volunteer for a charitable job you wouldn't have otherwise. Or just hug your loved ones a little tighter.


Share Your Memory of
Owen