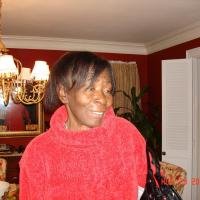 Obituary of Edna Foster
Please share a memory of Edna to include in a keepsake book for family and friends.
Beloved mother, grandmother, and aunt; devout Christian and gentle soul
Edna Louise Foster, age 81, formerly of Orange, East Orange, Elizabeth, Newark, and most recently West Orange, passed away on Sunday, April 19, 2020. She was born on November 23, 1938 to Clementina and Theophilus Foster. She was a devoted mother with an endless amount of love and compassion.
Born in Green Valley, St. Elizabeth, Jamaica W.I., she was the fifth of six children. As a child, she frequented church with her family and it is there where she was introduced to the Christian teachings and values that she established as the foundation of her life.
At the age of 18, Edna left rural Green Valley and moved to Jamaica's capital, Kingston. It was in Kingston that she gave birth to her first child, had her subsequent children and began what would become her life's work of providing for her family. Though she had limited educational opportunities, Edna was blessed with a kind disposition and perseverance. This endeared her to many influential individuals and enabled her to pursue and obtain opportunities on behalf of her children that ultimately surpassed the highest achievements that she envisioned for herself at the time.
Determined to make a better life for her and her family, Edna through the assistance of her eldest daughter, immigrated to the United States in 1988. Being the devoted mother she is, Edna immediately laid the foundation for her four youngest children to move to the U.S. Throughout her lifetime, she was employed in various industries, ranging from domestic caretaking in Jamaica to multiple stints in hospitality in the U.S. She was previously employed by Hilton Hotels & Resorts and was a certified Home Health Aide at Daughters of Israel in West Orange prior to her retirement. She was most recently a volunteer at the Church of the Epiphany and Christ Church in Orange, participating in multiple community service initiatives near and dear to her heart.
Edna will be most remembered for her kind heart and constant willingness to help those in need. She took great pride in watching her children and grandchildren succeed in their endeavors. She was very family-oriented and lovingly called "Mom" by family, friends and strangers alike. She always had an easy smile and kind word for those she informally adopted into her family. She instilled independence and tenacity into each of her children and through them her legacy of boundless love and determination will endure. Edna accepted people as they were and attributed her broad-minded outlook to her Christian values. She was a member of various churches throughout her three decades in New Jersey and left an indelible imprint on each congregation of which she was a member.
Edna lived a life full of love and grace. Despite obstacles placed in front of her, she persisted in turning the other cheek and rising above. She came from humble beginnings and was resolute in reaching back to help those in need. Those that knew and loved her would attest to her willingness to give the clothes off her back on the off chance it could bring the slightest joy. She was a light and a force to be reckoned with.
She is survived by five of her six children; sons Christopher, Delroy and Delroy's wife Angela, daughters Maxine, Andrea, and Jacqueline, her five grandchildren and their spouses; Aurane and his wife Kerene, Sophia and her husband Gerard, Kevon, Randy and Joshua; great-grandchildren Tianna and Ryan. She also leaves behind many nieces, nephews and extended family that will miss her greatly. She is pre-deceased by her son Carl, siblings Jacob, Felix, George, Aston and Linda.
A memorial service will be held at a later date to be announced. The family asks that in lieu of flowers and donations, a kind gesture be performed in Edna's memory.


Share Your Memory of
Edna