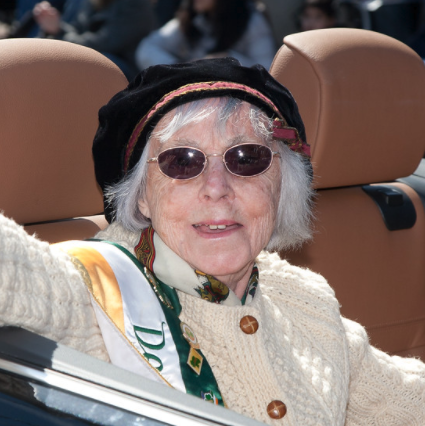 Obituary of Winifred Mary McNeill
Winifred Cunningham McNeill, 96
Winifred Cunningham McNeill was the daughter of Winifred Sharkey and James Cunningham from county Roscommon in Ireland. She was born and raised in West Orange among a large and loving family; James, Patrick, Walter, Richard, William and Paul Cunningham, all of whom have passed.
Winifred graduated from Immaculate Conception High School in 1942, and went on to Katherine Gibbs, and NYC Dental School. She worked as a dental technician for Dr. Kaller DDS before marrying Frank J. McNeill in 1948 to start a family. While raising her seven children, she worked at Arnold Constable, Claims Processing Corp, and retired from Hearst Publications in 1992.
Together, with the love of her life, Frank, they renovated a large house at 180 High Street. This same house was the site of the first mass of Our Lady of Lourdes parish on November 8th, 1914. Fittingly, this home continued to remain a lively hub: from family to community, to political activity. For 25 years, Win and Frank were actively involved with the Irish American Unity Conference (IAUC), advocating for human and civil rights for Catholics in Northern Ireland. Gerry Adams, President of Sinn Fein came to the house to discuss the McBride Principals with members of the IAUC. One of Winifred's passionate causes was the Good Friday Accord that was achieved with the help of Bill Clinton. In 2005 Winifred was the Deputy Grand Marshal of the St. Patricks' Day Parade of West Orange.
Win was Girl Scout Coordinator for three West Orange Elementary schools for 15 years. She served as an Essex County election board official for over 50 years. She was on the East Orange Catholic High School Parent's Guild for nine years.
Ahead of her time, Winifred took motherhood as a job, and she embraced it, like all of her jobs, with passion and authenticity. She is survived by her seven children and their significant partners: Nancy and James Simonic, Winifred and her husband John Woodruff, Jane and her husband Rick Clark, Dorothy, Francis and his wife Sue McNeill, James and his partner Jum Rosen and Michael McNeill.
She leaves behind her grandchildren Jennifer Simonic, Johanna, Bradley and Colin Rhyins, Kaitlin, Ryan (Killam), Caleigh and Francis, Sara and James McNeill; Kristen Salis and Michael Woodruff and her great-grandchildren Julia and Jake Welton, Jillian and Nina Alverez and Adelaide Maine Woodruff.
There will be a memorial service after the pandemic passes. In lieu of flowers it is suggested that you make a donation to your favorite charity in Winifred's name.
Due to the recommended safety measures caused by the Coronavirus, Funeral Services are being privately arranged by The Dangler Funeral Home of West Orange. A celebration of Winifred's life will be held at a later date. Letters of condolence may be posted at danglerfuneralhome.com.


Share Your Memory of
Winifred