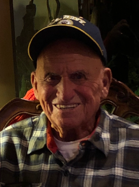 Visiting
2:00 pm - 8:00 pm
Wednesday, March 4, 2020
Dangler Funeral Home Of West Orange
340 Main Street
West Orange Township, New Jersey, United States
973-325-1212

Get Directions
Funeral Mass
10:00 am
Thursday, March 5, 2020
Saint Raphael's Church
346 East Mt. Pleasant Ave.
Livingston, New Jersey, United States

Get Directions


Obituary of Elmer Sonny Ciamillo Jr.
Elmer 'Sonny' Ciamillo, Jr.
WW II Navy Veteran, Lifelong West Orange Resident provided a wonderful life for his family
Elmer 'Sonny' Ciamillo, Jr., 98 of West Orange, NJ passed away peacefully at home on February 29, 2020. He was born July 7, 1921 to Carmela and Elmer Ciamillo of West Orange, NJ. During his high school years he caddied in West Orange at the original Hutton Park Essex County Country Club. Sonny enlisted in the Navy in 1942 for wartime service. His first assignment was on the USS Massachusetts in Boston. On November 28, 1942 one of the deadliest known nightclub fires in world history happened at Cocoanut Grove Nightclub in Boston. Sonny and his shipmates were called to the scene to help with the rescue. He and the crew were considered true heroes. Sonny was then assigned to the aircraft carrier The Midway. In early October 1944 Sonny was a part of a large task force known as Taffy 3. At dawn on October 25, 1944 The Midway engaged in a fight for its life against Japanese warships at close range. The Midway came under a concentrated Japanese aerial attack. Sonny and his crew were firing their weapons from the port side of The Midway focusing on Japanese warship 10,000 yards away and closing. Suddenly, the first Japanese Kamikaze pilot of World War II rained terror upon the crew of The Midway.
Anti-Aircraft guns failed to stop the enemy plane as it crashed into the flight deck, erupting into a fireball. The planes bomb penetrated the flight deck, exploding The Midway's bomb magazine on the portside hangar deck below. Sonny was blown into the sea by forceful explosion. Without a life vest, a quick thinking Navy pilot heroically saved Sonny's life when he dropped an inflatable life raft into the water. Sonny and three shipmates inflated the life raft and climbed aboard while a fierce air and sea battle raged around them.
Within a half hour Sonny witnessed The Midway sink. He then faded in and out of awareness, adrift on the lonely vastness of the Pacific for five days until he was plucked out of the ocean and went on to recover from his injuries. The Kamikaze attack was considered the first such attack of World War II.
Sonny had a fifty year plus career with the Town of West Orange. In 1953 he married the love of his life, Ruth Rozelle O'Neil to whom he was married for fifty plus wonderful years until her passing in 2004. Together they had eight children.
A devout Catholic, Sonny was a founding member of St. Raphael Church in Livingston, NJ in 1961 under Archbishop Thomas Boland. He was a member of the Men's Holy Name Society. Sonny served as an usher from the time the Church doors opened until present. He was known as the "man with the keys."
Sonny's greatest times were spent with his family and friends. Sonny and Ruth's home was the center of entertainment. It was the home for all family gatherings celebrating an untold amount of holidays and birthdays. Sonny always looked forward to everyone attending weekly Sunday dinners. He loved the ski trips to Vermont and fifty years of summer vacations at the beach in Lavallette, NJ. He thoroughly enjoyed the monthly senior citizen bus trips to Atlantic City with his friends.
Sonny was predeceased by his wife, Ruth Rozelle O'Neil; his parents, Carmela and Elmer Ciamillo; his sisters, Mazie Sautto, Ida Kinahan, Sr. Marie Ciamillo; his brothers, Anthony and Enrico; he is survived by a sister, Rose Jiroux; his brothers, Theodore, Louis and Frank; his brother-in law and sister-in-law, Jack and Jane O'Neil.
Sonny's well-lived life will live on through his children and their spouses and all who knew and loved him. He is survived by his eight loving children: Buddy Ciamillo, Harold Ciamillo (Rose Mary), Geralyn Stortz (Richard), Jack Ciamillo (Karen), Mary Jo Buoye (John), Richard Ciamillo (Suzanne), Megan Ciamillo and Regina Ruggiero (Anthony). He was a cherished grandfather of John, Jamie, Sarah, Ashley, Emily (Kenneth), Jennifer, Corin, Johnny, Ariana, Holly, Sophia and Ryan.
Visiting will be held on Wednesday, March 4, 2020 from 2:00 to 8:00 PM at The Dangler Funeral Home of West Orange, 340 Main Street in West Orange.
A Funeral Mass will be offered on Thursday, March 5, 2020 at 10:00 AM at Saint Raphael's Church, 346 East Mt. Pleasant Ave., in Livingston. Cremation will be private.
Letters of condolence may be posted at danglerfuneralhome.com.
In lieu of flowers, donations may be made to the American Heart Association or National Multiple Sclerosis or Susan B. Koeman Breast Cancer Society.


Share Your Memory of
Elmer