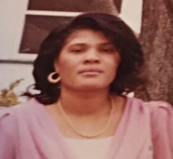 Obituary of Guerda Seide
Guerda Seide, 70 years old, passed away on Thursday November 21, 2019 at John F. Kennedy Medical Center in Edison, NJ. Guerda was born in Saint Marc, Haiti on August 14,1949 to Louise Gonzalez and Carnot Philippe-Auguste. She was the second child of this union. Her early years were spent in Saint Marc where she attended primary school. She was loved and respected by her teachers and her schoolmates who described her as kind, loving, and smart. For better economic opportunities, she was the first in her family to move and settle in the New Jersey during the 1970's.
Guerda spent her career working at Saint Barnabas Medical Center in Livingston, New Jersey. She was passionate about her work; she enjoyed creating bonds with people at the center. She spent over twenty years working at Saint Barnabas Medical Center. During her pastime, she spent most of her days with her sister Vayola Gonzalez- Charlemagne with whom she had a special bond because they were the only two sisters who lived on the East Coast. She played a vital role in rearing her sister's child, Darnelle Charlemagne, and she was elated to play such an integral role. Guerda was a physically and a spiritually beautiful woman. She was loving, giving, independent, and strong-willed woman. She was an avid shopper at her favorite retail store Lord &Taylor.
Guerda loved the Lord and was a faithful servant. She enjoyed attending the Cross Roads Church lead by Pastor Nicholas. She took pride in dressing in her "best" outfits to praise the Lord. She was previously a member of Ebenezaer Christian Alliance Church for thirteen years lead by Reverend Ossiny. The last church she attended was First Baptist Church lead by her beloved son Peter in Berlin, New York.
Guerda bore three children Marjorie, Woody, and Peter. Unfortunately, Woody was a still born so she is survived by Marjorie and Peter. In her later years where she moved to New York to spend her final days with Peter. She enjoyed her relationship with her children. She was a devoted grandmother to her grandchildren as well.
She leaves to mourn her loss, her daughter Marjorie, her son Peter, her daughter- in-law Holly, and her four grandchildren: Josiah, Jonah, Aaron, and Peter Junior.
Guerda is predeceased by her siblings Ducarmel Phillippe- Auguste, Marc Gerald Philippe- Auguste, Vayola Gonzalez-Charlemagne, Ernst Borno,Harold Borno, and Hanniel Yosef. She joins in reunion with her sisters Evelyn Philippe- Auguste and Jocelyn Philippe- Auguste in the presence of the Lord.
Other survivors include her nieces and nephews: Natasha Duvivier, Schiller Philippe-Auguste, Lyonel Philippe- Auguste, Duke Philippe-Auguste, Mackland Pierre Louis, Jeff Philippe-Auguste, Danielle Michel, Sandra Michel, Juventa Michel, Beverly Accius, Darnelle Valencia Charlemagne, Teddy Hyppolite, Lancia Mercado, Tashi Hyppolite, Ernestine Borno, Ernst Borno, Ernstley Borno, Sabrina Philippe-Auguste, Claude Philippe- Auguste,, Andy Borno and twenty- four great-grand nieces and nephews.
Visitation will be held at 9am-11am on Friday November 29 at The Crossing Church, 222 Laurel Avenue, Livingston NJ 07039. The memorial service will be held at 11am and officiated by Pastor Tim Chicola. Following the service, the interment will be held at Restland Memorial Park in East Hanover. Funeral arrangements are entrusted to The Dangler Funeral Home of West Orange.
In lieu of flowers donations can be made to the National Alliance on Mental Illness.
Visiting
9:00 am - 11:00 am
Friday, November 29, 2019
The Crossings Church
222 Laurel Avenue
Livingston, New Jersey, United States
Memorial Service
11:00 am
Friday, November 29, 2019
The Crossings Church
222 Laurel Avenue
Livingston, New Jersey, United States
Interment
12:30 am
Friday, November 29, 2019
Restland Memorial Park
77 DeForest Avenue, <no data>
East Hanover, New Jersey, United States
(973) 887-2050
Share Your Memory of
Guerda