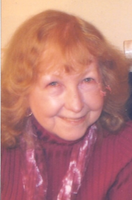 Eva Veronica Rizzo
Eva Veronica Rizzo, 93
Eva Veronica Rizzo, 93, of Union Township passed away on October 4, 2020.
Visiting will be held on Saturday, October 10, 2020 from 4:00 to 7:00 PM, with the Funeral Services at 6:30 PM at The Dangler Funeral Home of West Orange, 340 Main St., West Orange. In lieu of flowers, donations may be made in Eva's name to St. Jude Childrens Research hospital, 501 St Jude Pl., Memphis, TN 38105-9959. Letters of condolence may be posted at danglerfuneralhome.com.
Eva was born in Brooklyn and lived in Union Township. She was a Sales Representative working for Linda Page Clothing.
Eva was the beloved wife of 70 years to Philip Rizzo. Devoted mother of Kenneth Rizzo and his wife Donna, mother in law of Albert Ulicny, she was predeceased by her daughter Donna Ulicny, and her son Peter Rizzo. Cherished grandmother of Michael, Matthew, Kyle, Alexandra, and James. She was predeceased by sisters, brothers, sisters in laws and brothers in laws.
During the COVID 19 pandemic, all persons entering the Funeral Home will be required to wear a face mask or face covering throughout their stay. Likewise, all social distancing rules must be adhered to. Gathering together in groups should not happen. A continued flow throughout the facility will aid in keeping all of us safe, with everyone having an opportunity to pay their respects.