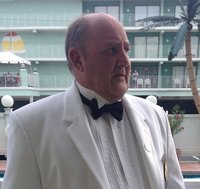 John Joseph Reitberger
John Joseph Reitberger, 69
John Joseph Reitberger, 69, of West Orange passed away on Monday May 13, 2019.
A Memorial Visitation will be held on Thursday, May 16, 2019 at The Dangler Funeral Home of West Orange (340 Main Street, West Orange) from 4:00 to 8:00 PM with the Funeral Services at 7:30 PM. In lieu of flowers, the family will be accepting donations.
John was born in Newark and raised in Belleville before moving to West Orange 46 years ago. He was the Produce Manager working for Stop & Shop in Madison. John was a member and Past Exalted Ruler of the Orange Elks BPOE Lodge #135.
John was the beloved devoted son of June and the late Herbert Reitberger. Loving brother of Linda Reitberger, Robert Reitberger, Catherine Perna and her husband Lenny, Harry Reitberger, James Reitberger and his wife Cindy, June Reitberger, Thomas Reitberger, and the late Patricia Reitberger, Michael Reitberger, and Susan Reitberger. Cherished uncle of Jennifer Perna, Leonard Perna and his wife AnnMarie, Anthony Perna and his wife Luz, Dillon Reitberger, Bryan Reitberger, and the late James Reitberger. Great-Uncle of Massimo Perna. John is survived by many aunts, uncles, and cousins. He also leaves behind countless friends and will be missed by many.