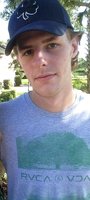 Thomas Justin Gawenus
With deepest sorrow, we announce the sudden passing of Thomas Justin Gawenus, 29, of West Orange NJ, on Sunday, April 14th 2019. Born to Thomas S. Gawenus and Julie A. Gawenus in Summit, NJ on January 27, 1990.
Friends may call on the family at The Dangler Funeral Home, 340 Main St., West Orange, N.J. 07052 on Monday, April 22, from 4-8 pm. A celebration of Tom's life will take place on Tuesday, at 11:00am at Our Lady of Lourdes RC Church. Condolences may be posted at Danglerfuneralhome.com.
Tom was a life long resident of West Orange. He attended both Seton Hall Prep and W.O.H.S. Those who knew Tom will remember his infectious smile, his kindness, great sense of humor, charming personality, respectfulness and love of family. He loved all sports; playing and watching; especially the N.Y. Yankees and the N.Y. Giants. He loved playing piano and guitar and listening to all types of music. He was a loyal friend.
Over the past 12 years Tom fought a fierce fight with substance abuse disorder which he was courageous and determined to beat. His entire family was always supportive but in the end, and in spite of his perseverance, the challenge was far too daunting and he succumbed to the disease.
Tommy leaves his heartbroken Mother, Julie Gawenus and father, Thomas S. Gawenus, sisters, Kristen Elizabeth and Jaclyn Grace Gawenus. His adored Grandmother, Lois A. Bogwald along with numerous aunts, uncles, cousins and friends.
In lieu of flowers, donations may be made to the organization Hope Sheds Light at Hopeshedslights.org.
Until we meet again may God hold you in the palm of his hand.
Rest in peace beautiful boy….