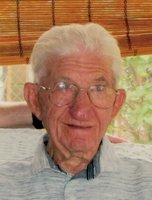 Albert Carmen Guadagno
Albert Carmen Guadagno, 100
"Centenarian"
Albert Carmen Guadagno, 100, of West Orange passed away on Sunday, November 11, 2018.
Visitation will be held on Sunday, November 18, 2018 from 2:00 to 6:00 pm. at The Dangler Funeral Home of West Orange, 340 Main Street in West Orange. In lieu of flowers, a donation to the charity of your choice is greatly appreciated.
A Funeral Mass will be offered on Monday November 19, 2018 at 11:00 am at Our Lady of the Valley Church, 510 Valley Road in Orange.
Albert was born on Joyce Street in West Orange NJ on February 27, 1918. , living in Toms River before returning to West Orange in 2004. He grew up in various places in Orange- West Orange. Albert lived in Kearny, Adair, Oklahoma, Toms River and West Orange, where he was a resident of the Degnan Senior Citizens Housing since 2004.
Albert worked at Commonwealth Water Co. (now NJ-American Water), for 32 years, retiring in 1980. Mr. Guadagno honorably served in the United States Army from 1944 to 1946 in the China-Burma-India (CBI) Theater, receiving the NJ Distinguished Service Medal. He was active in the VFW Post 376 in West Orange and the West Orange Elks Lodge 1590. He was a lifelong New York Yankees and Football Giants fan.
Albert was the beloved husband of 70 years to the late Catherine "Katie" Guadagno (nee Rinaldi). Devoted father of Albert A. (Maria), and Gail Lauterbach (Lyle).
Loving brother of Anthony, Josephine Garrison, Jerry, Victor, Michael, and the late Charles (Chuck), Rose Thompson, Anna McKenzie, Gloria Shepard, Eleanor Annicarico, Elizabeth (Betty) Tafaro, and Antoinette Digieso. He is also survived by his sister-in law Jean Pastorino and brother-in-law William Rinaldi. Cherished grandfather of 10, great-grandfather of 1, and 2 great-great-grandchildren.