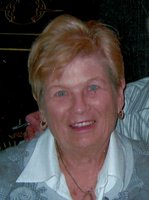 Regina F. O'Hare
Regina F. O'Hare, 78
Regina F. O'Hare (nee Winters),78, of Spring Lake Heights passed away on Tuesday January 9, 2018.
Visitation will be held Sunday January 14, 2018 from 12-4 PM, with the Funeral Services at 3:30 PM at The Dangler Funeral Home of West Orange, 340 Main Street in West Orange. In lieu of flowers donations may be made in Regina's name to Our House, 76 Floral Avenue Murray Hill, NJ 07974. Letters of condolence may be posted at danglerfuneralhome.com.
Regina was born and raised in Pawtucket, Rhode Island, living in West Orange before moving to Spring Lake Heights. She worked out of Newark for the State of New Jersey as Administrative Manager for the Courts. Regina was a member of The Women of Irish Heritage.
Regina was the beloved daughter of the late John and Anna Winters. Devoted mother of Brian O'Hare, and Tara O'Hare. Loving sister of Maryann Desjarlais, Henry Winters, John Winters, Michael Winters and Cathy Rafferty. Sister-in-law of Patti Lewis and the late Maureen Flynn-Brennen.