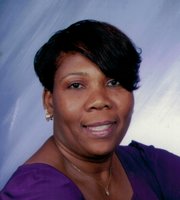 Jocelyne Jean-Baptiste
Jocelyne Jean-Baptiste, 59
Jocelyne Jean-Baptiste, 59, of West Orange passed away on Saturday January 6, 2018.
Visitation will be held on Friday, January 19, 2018 from 5-9 PM at The Dangler Funeral Home of West Orange, 340 Main Street in West Orange.
A Funeral Mass will be offered on Saturday January 20, 2018 at10:00 AM at Our Lady of Lourdes Church, 1 Eagle Rock Ave. in West Orange. Interment will follow at Rosedale Cemetery, 408 Orange Road in Montclair.
Jocelyne was born and raised in Port-au-Prince, Haiti until 1986, before living in New York and Newark before moving to West Orange in 1998. She was a Certified Nurse's Assistant working at Garden Terrace in Chatham.
Jocelyne was the beloved wife of Lionel Jean-Baptiste. Cherished daughter of Pauline Voltaire and the late Eugene Voltaire. Devoted mother of Yveline Curtis, Cliff Jean- Baptiste, and Joyceley Jean- Baptiste. Loving grandmother of Jaden, Jakai, and Jalisa. She is also survived by many brothers and sisters.