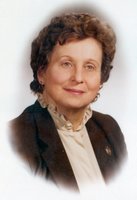 Elizabeth Ann "Betty" Longo
Elizabeth Ann "Betty" Longo, 92
Elizabeth Ann "Betty" Longo (nee Raycheck),92, of West Orange, NJ passed away on Saturday December 30, 2017.
Memorial visitation will be held on Saturday January 27, 2018 from 11:00 am to 1:00 PM, with the Prayer Services at 12:30 PM. Visitation will take place at The Dangler Funeral Home of West Orange, 340 Main Street in West Orange, NJ. Letters of condolence may be posted at danglerfuenralhome.com.
Betty was born in Lemont Furnace, PA moving to New Jersey at the age of 19 during World War II as a worker in the defense industry. In 1946, she married her beloved husband. Together they purchased their home in West Orange and raised their family. Betty fulfilled her personal dream by receiving her B.A. in Psychology from Montclair State University at the age of 57. She was a Mortgage Administrator working for Llewellyn Edison Savings Bank in West Orange.
Betty was the beloved wife of 72 years of Peter J. Longo. Devoted mother of Patricia Bolles, Diana Longo, and Peter M. Longo and his wife Lisa Olesky. Loving sister of the late Nellie Raycheck, Walter Raycheck, Helen Cramer, Peter Raycheck, Thomas Raycheck, and Frank Raycheck.