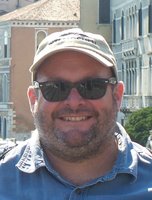 Peter Ardley Porter
Peter Ardley Porter Jr., 49, of West Orange, New Jersey passed away on November 28, 2017 after a courageous battle with brain cancer.
Peter was born and raised in San Diego, California where he graduated from St. Augustine High School. Following high school, he joined the United States Marine Corps where he served in Operation Desert Shield and Desert Storm with Marine Air Group 11, 3rd Marine Aircraft Wing.
He received his bachelor's degree from Seton Hall University and his master's degree from Rutgers University. Peter was a history teacher at Montville High School and an adjunct professor at Seton Hall University. Previously he taught at Essex Catholic High School.
Peter was a member of the Montclair Council #1277 Knights of Columbus where he held the position of Deputy Grand Knight. He was an avid reader, enjoyed travel and was a sports enthusiast. His favorite sports teams included the New York Yankees, the Dallas Cowboys and the New Jersey Devils. Peter loved history, music and supporting the performing arts.
Peter is preceded in death by his mother Maryann Porter. He is survived by his high school sweetheart and wife of 26 years Val Porter; daughter, Meg Porter; daughter, Kathleen Porter; father, Peter Ardley Porter, Sr.; brother, Matthew Porter; sister in law, Becky Porter; brother in law, Ernie Roettger; sister in law, Jennifer Roettger, as well as nieces, nephews and many friends.
A funeral mass will be held at Immaculate Conception Church in Montclair on Saturday, December 9, 2017 at 10:00 am.
Contributions in memory of Peter may be made to ECLC of New Jersey, 100 Passaic Avenue, Chatham, NJ 07928.