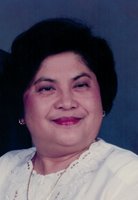 Bienvenida Guzon Landas
Bienvenida Guzon Landas, 76, a long-time resident of West Orange, NJ, passed away peacefully at Saint Barnabas Medical Center on Sunday, October 1, 2017.
Visitation will be held Sunday, October 8, 2017 from 4:00 to 8:00 PM at The Dangler Funeral Home of West Orange, 340 Main Street, West Orange, NJ.
A Funeral Mass will be offered on Monday, October 9, 2017 at 10:00 AM at Saint Joseph's Church, 44 Benvenue Avenue, West Orange, NJ. Cremation will be private.
Born in the Philippines in 1940, Bienvenida (lovingly known as "Benny") was a dedicated registered nurse and lived her life taking care of others. As a devout Catholic, she was a constant presence with her church's rosary group. The beloved daughter of the late Metotia Deus Prieto & Mateo Gascon Guzon, Bienvenida was the devoted mother of Michael Landas of Jersey City, NJ and Lesley Landas of West Orange, NJ. She is also survived by her siblings Constacio Guzon, Teotocia Guzon Ta-a, Sandalio Guzon, Victoria Guzon Narciso, Adriana Guzon Navarro, Artemio Guzon and Celestino Guzon and many cherished nieces and nephews. She was preceded in death by her siblings Maria Guzon and Isabelo Guzon.
In lieu of flowers, donations may be made in Bienvenida's name to the American Diabetes Association.