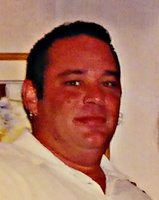 Alfred Yacavino
Alfred "Alfie" Yacavino, 55
Alfred "Alfie" Yacavino, 55, of Orange passed away suddenly on Wednesday February 21, 2018.
A Memorial Mass will be celebrated on Tuesday March 6, 2018 at 11:00 AM at Our Lady of Lourdes Church, 1 Eagle Rock Ave. in West Orange. Followed by a repass at Libretti's Restaurant, 554 Nassau Street in Orange. Arrangements are entrusted to The Dangler Funeral Home of West Orange.
Alfred, lovingly known as "Alfie" was born and raised in West Orange and was a lifelong resident of the Oranges.
Alfie was the beloved son of Rose Marie and the late Anthony Yacavino. Also grieving his loss are loving siblings Pamela, Anthony, Carmela, and Teresa. Devoted uncle of Carla, Jaime, and Sergio. Cherished great-uncle of Aryana, Isaiah, Iyanah, Mia, Chase, Cameron, and Carter. Alfie was a great friend and was loved and will be missed by many. "There but for the grace of God go I"